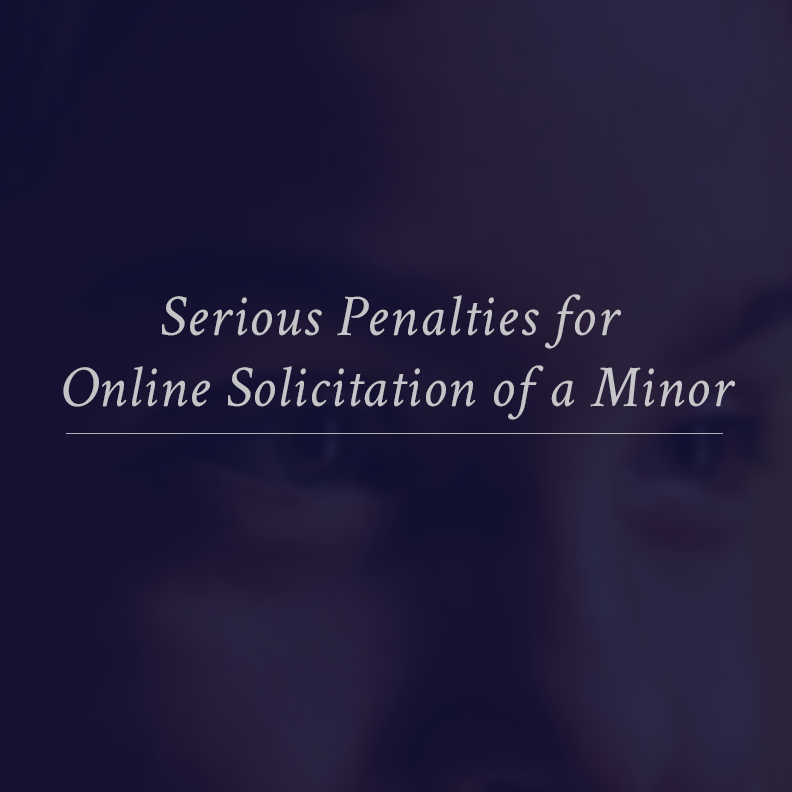 Online Solicitation Of A Minor In Texas
Media reports state that police in Texas have been very active in targeting online predators
Using the internet to arrange or ask for sex or sexual contact with an underage individual is a serious crime under both federal law and Texas state law. Many people view the internet as a sort of Wild Wild West, in which the rules are lax and no one really polices conversations or exchanges.
This is incorrect. In fact, law enforcement at the local, state, and federal levels actively monitor what occurs online. Furthermore, you don't have to actually make physical contact with a minor or even meet a minor in person to be charged with solicitation.
Police Stings for Online Solicitation of a Minor in Texas
Media reports state that police in Texas have been very active in targeting online predators and setting up sting operations designed to catch individuals who attempt to solicit sex or sexual contact with children over the internet.
One report states that police in the Houston area arrested 13 people in a sting called "Operation Broken Heart." The operation took place over two months between April and May. During the operation, police posed as underage individuals and interacted with men who sought to connect with minors using social media and other internet communication. In total, police arrested 13 men between the ages of 19 and 66. Three of the men arrested were also charged with possession, promotion, or distribution of child pornography.
In a separate operation, the Hamilton County Sheriff's Office made at least 15 arrests in child sex stings between December 2016 and April 2017.
In 2015, police departments from Missouri City, Fort Bend County, Katy, and Sugar Land arrested 23 men in connection with a sting involving the online solicitation of minors. In several of the cases, police also found weapons and illegal substances in the men's vehicles.
Serious Penalties for Online Solicitation of a Minor
Online solicitation of a minor carries serious penalties at both the federal and state level. Under federal statutes, a person convicted of online solicitation of a minor can be sentenced to life in prison under certain circumstances. At a minimum, an individual convicted of federal online solicitation of a minor can expect to spend 10 years in prison. These are felony convictions that stay on your criminal record forever.
Under Texas state law, it's a felony to use the internet to solicit sex with a minor. The crime can be charged as a second- or third-degree felony depending on the circumstances of the case. If an individual is convicted of a second-degree felony, the prison sentence ranges between two and 20 years. Conviction of a third-degree felony carries a sentence of two and 10 years.  
Contact a Texas Criminal Defense Lawyer About Your Case
If you've been charged with a crime, don't hesitate to speak to an experienced Texas criminal defense lawyer about your case.
Sources:
http://www.mysanantonio.com/news/local/texas/article/5-arrested-Central-Texas-online-child-sex-sting-11049130.php
http://www.chron.com/neighborhood/sugarland/news/article/Houston-police-arrest-13-in-child-predator-sting-11234843.php
https://www.click2houston.com/news/23-arrested-in-sting-operation-involving-online-solicitation-of-minors_20151123143036664
https://www.law.cornell.edu/uscode/text/18/2422
http://codes.findlaw.com/tx/penal-code/penal-sect-33-021.html
Broden & Mickelsen Dallas Criminal Defense Lawyers
http://www.brodenmickelsen.com/
2600 State St Dallas, Texas 75204
Main Phone: (214) 720-9552
Disclaimer: The information does not constitute advice or an offer to buy. Any purchase made from this story is made at your own risk. Consult an expert advisor/health professional before any such purchase. Any purchase made from this link is subject to the final terms and conditions of the website's selling. The content publisher and its distribution partners do not take any responsibility directly or indirectly.  If you have any complaints or copyright issues related to this article, kindly contact the company this news is about.