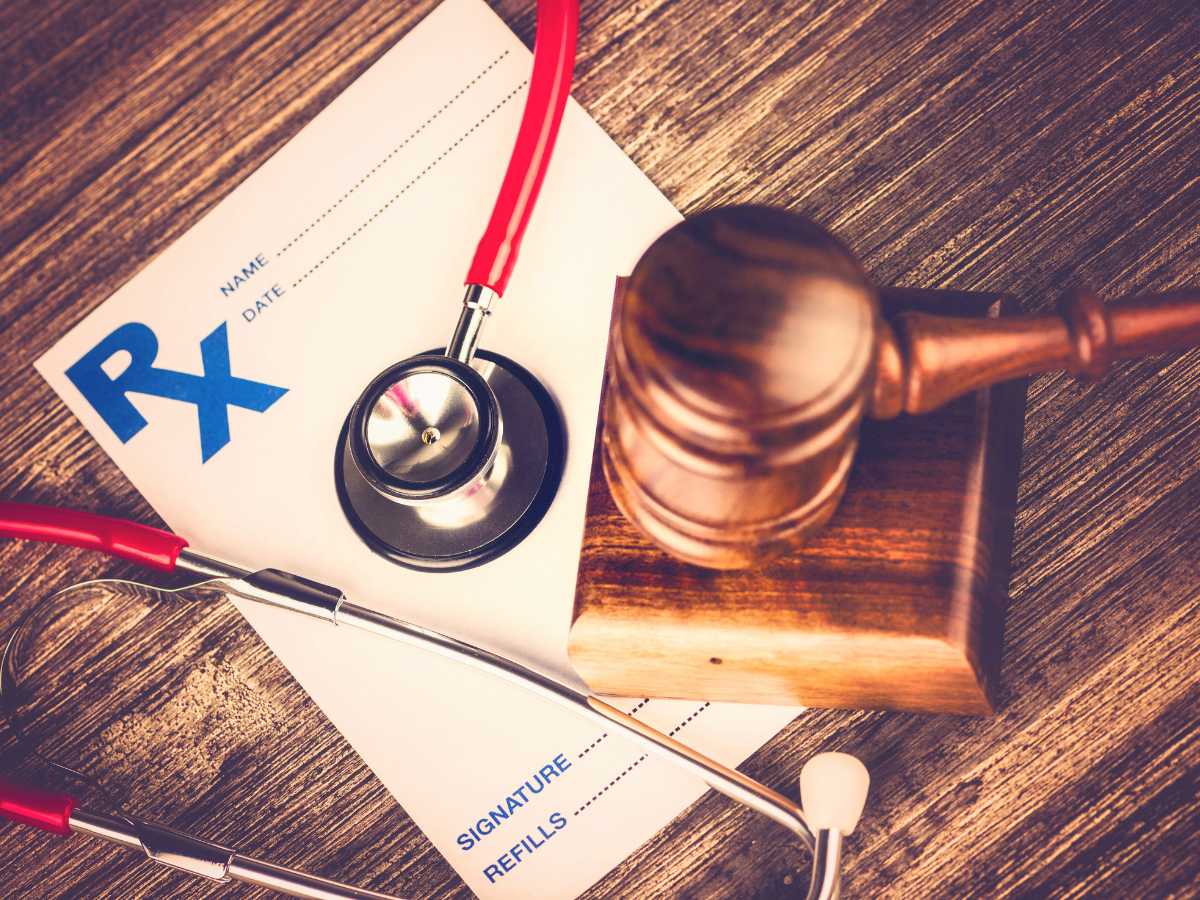 Dallas Drug Crimes Defense Lawyer Explains - Defending Doctors Against Pill Mill Charges
If you are a doctor who has been charged in federal court with illegally prescribing opioids, painkillers, or other prescription medications, it's important to seek legal help right away.
The opioid crisis is a serious issue that has prompted federal law enforcement agencies to aggressively pursue charges against doctors, pharmacists, and other health professionals who illegally supply patients with painkillers. When doctors and others in the health care industry over-prescribe painkillers or give patients an ongoing supply of opioids and other prescription drugs without properly treating the patient, this is often referred to as a "pill mill."
On the other hand, in some cases, painkillers are appropriate for a patient's legitimate medical care. Some physicians also specialize in the management of chronic pain. Unfortunately, doctors can sometimes get falsely accused of operating a so-called pill mill when they are actually just trying to help their patients.  
If you are a doctor, pharmacist, nurse practitioner, or other health care provider who has been charged in federal court with illegally prescribing opioids, painkillers, or other prescription medications, it's important to seek legal help right away. The federal government, including the Drug Enforcement Administration (DEA) and Federal Bureau of Investigation (FBI) have started aggressively pursuing pain clinics and doctors' practices that prescribe pain medications. 
What Are Pill Mills?
The phrase pill mill has become a popular term that refers to a pain clinic, doctor's office, or clinic that exists almost solely to distribute painkillers. These medical practices are run by real doctors, but they are really more of a front for dispensing drugs in an unsafe way. When doctors, pharmacists, and other medical professionals prescribe painkillers to make money rather than help a patient, they can be charged with running a pill mill. 
However, not every pain clinic or similar practice is a pill mill. In fact, there are physicians who specialize in the management and treatment of chronic pain, and they have particular expertise in treating pain that is so severe it stops a patient from living their daily life. These patients have real medical needs, but they find it increasingly difficult to get appropriate care because doctors are worried about being targeted by accusations of operating a pill mill. 
Tragically, some physicians have stopped prescribing painkillers altogether. Some of the drugs law enforcement tends to target include Oxycodone, Hydrocodone, Fentanyl, and Morphine. While these prescription drugs can be abused just like any other drug, they can also serve a legitimate medical purpose, and doctors should not be unfairly targeted or charged with a crime for legally prescribing them. 
Doctors convicted of running a pill mill have received long prison sentences. In one case, a doctor was sentenced to 13 years in federal prison for operating a pill mill that prescribed a million units of narcotics. In another case, a doctor was charged with the murder of three former patients after she prescribed excessive amounts of painkillers, earning $5 million over a three-year period. 
Defending Against Pill Mill Charges
If you are a doctor, pharmacists, or other health care professional who has been charged with illegally prescribing opioids, painkillers, or another type of drug, it's important to discuss your case with an experienced Texas drug crimes defense lawyer as soon as possible. 
A knowledgeable drugs crimes defense lawyer can help you defend yourself against pill mill charges. These cases are typically brought in federal court, and they can be extremely complex. In many cases, it's necessary to get an expert medical witness to review the case and testify that the physician's behavior and treatment were medically reasonable according to the generally accepted standard of care. 
Possible Consequence for a Patient Fatality Due to Overdose
In some tragic cases, a patient dies after taking a high dose of a prescription drug. In these cases, prosecutors may charge a physician or other health professional with murder. There have been a number of cases in which doctors have been convicted of murder even though the patient took more than the prescribed dose.
In these cases, it may be necessary to work with professionals such as toxicologists and pathologists who can offer expert testimony regarding the patient's death, including testimony about any potential contributing factors that could have caused the death. It may be possible to prove that the patient would have died even without the prescription, vindicating the doctor or causing the prosecution to reduce the charges. 
Discuss Your Case with a Texas Drug Crimes Defense Lawyer
If you are a physician, pharmacist, or other health professional who has been charged with operating a pill mill, it's important to talk to a Texas drugs crimes defense lawyer as soon as possible. These are serious charges that can ruin a professional's reputation, business, and livelihood. A conviction can deprive you of your freedom and your medical license. Protect your future by speaking to an experienced criminal defense lawyer near you as soon as possible. 
https://www.brodenmickelsen.com/
Sources:
https://www.justice.gov/usao-sdga/pr/pill-mill-doctor-convicted-16-counts-healthcare-fraud-illegally-dispensing-drugs 
https://www.dea.gov/press-releases/2019/05/13/pill-mill-doctor-sentenced-13-years-conspiracy-distribute-narcotics 
***ATTORNEY ADVERTISING*** 
Prior results cannot and do not guarantee or predict a similar outcome with respect to any future case.
###KISSPR.COM PRESS RELEASE NEWS DISCLAIMER ###
This news has been published for the above source. Kiss PR Brand Story Press Release News Desk was not involved in the creation of this content. KISS PR and its distribution partners are not directly or indirectly responsible for any claims made in the above statements. Contact the vendor of the product directly.  
https://story.kisspr.com
Content Disclaimer: 
The above review statements are those of the sponsor (Source of content) and do not necessarily reflect the official policy, position or views of the content publisher. The content distribution company is therefore not responsible for the content and its authenticity and legal standing of the above subject matter. Each individual is required to exercise its content when making a purchase from the above offer. The information does not constitute advice or an offer to buy. Any purchase made from the above press release is made at your own risk. Editorial merit of this content is subject to news publisher and its downstream partners. Consult an expert advisor/health and professional advisor before any such purchase. Any purchase made from this link is subject to the final terms and conditions of the website's selling as mentioned in the above as source. The content publisher and its downstream distribution partners do not take any responsibility directly or indirectly. If you have any complaints or copyright issues related to this article, kindly contact the company this news is about.  
DISCLAIMER of Liability. IN NO EVENT SHALL OUR PR COMPANY BE LIABLE OR RESPONSIBLE TO YOU OR ANY OTHER PERSON FOR ANY DIRECT, INDIRECT, INCIDENTAL, CONSEQUENTIAL, SPECIAL, OR EXEMPLARY DAMAGES OF ANY KIND, INCLUDING WITHOUT LIMITATION, LOST PROFITS OR LOST OPPORTUNITIES, EVEN IF ADVISED OF THE POSSIBILITY OF SUCH DAMAGES IN ADVANCE AND REGARDLESS OF THE CAUSE OF ACTION UPON WHICH ANY SUCH CLAIM IS BASED, INCLUDING, WITHOUT LIMITATION, ANY CLAIM ARISING OUT OF OR IN CONNECTION WITH ANY OF THE CONTENT, INCLUDING, WITHOUT LIMITATION, AUDIO, PHOTOGRAPHS, AND VIDEOS, OR OF THE ACCURACY, RELIABILITY, OR LEGALITY OF ANY STATEMENT MADE IN OR OMITTED FROM ANY advertisement, sponsorship, endorsement, testimonial, opinion, or other product-related or service-related statement or review appearing in the Websites or in ANY post or article distributed via the Websites.